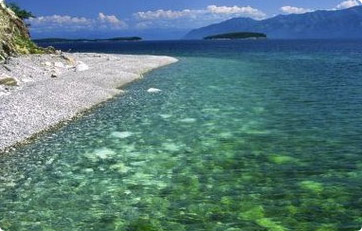 Baikal is a unique lake in the centre of Siberia in Russian Asia. Age of Lake Baikal is around 25-30 millions years that refers it to the most ancient lakes in the world.
The lake has a form of crescent and goes from north to south-west having the length of 636km. the maximum width is 81km, the minimum is 27 km. The size of surface is 31 500 km², volume is 23 000 km³, the length of coastline is approximately 2100 km.
"If water of saint lake is allocated over whole planet it is going to be about 30sm! Baikal is 20% of all planet potable water. It is one of the most beautiful places in the Earth".
Thank to influence of great water depth Baikal area has its own sea climate. It is sunny here during 317 days a year.
Baikal is nature hangover and it is included to the list of Universal nature heritage of United Nations Organization for Education. As one of the most beautiful and the cleanest places in the Earth.